Stephenson Harwood and Colebrook Offshore host the UK's first ever Crew Transfer Vessel day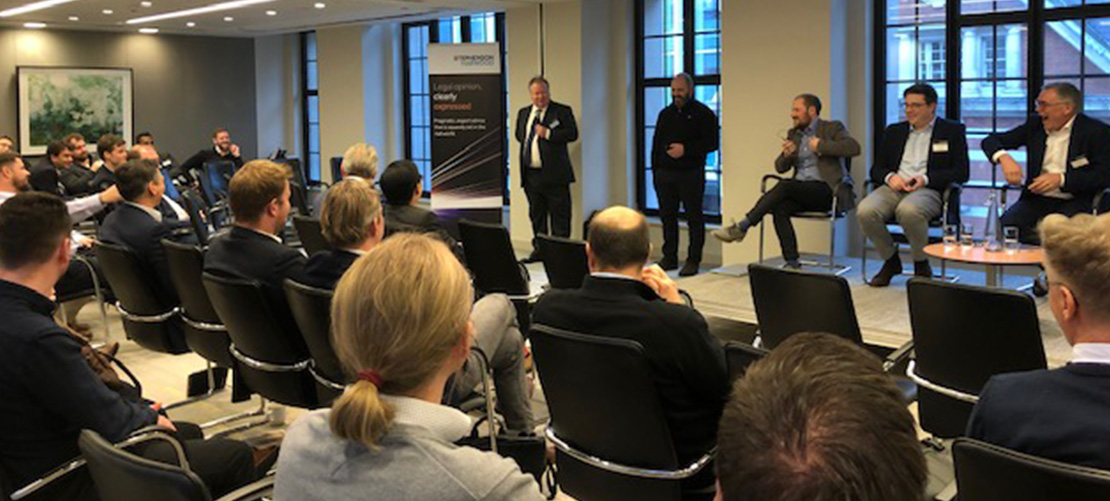 CTVs importance globally as an essential part of the offshore windfarm industry is increasing year on year.
On Thursday 3 March, Stephenson Harwood in conjunction with long term client Colebrook Offshore welcomed 110 delegates to the first ever industry day dedicated to the CTV market. Attendees included vessel owners from across UK and EU, shipyards from the UK and Singapore, plus key decision makers from several major windfarm operators.
Stephenson Harwood partners, Tony Concagh, Tom Adams and senior associate Cathal Leigh-Doyle presented on a range of legal issues relevant to the sector, while shipbroker, Tom Nugent of Colebrook Offshore assessed the current CTV market and identified where there will be international growth. We also had guest presentations from Joshua Brennan, Managing Director of Offshore Operations covering emerging markets and CTV suitability, Shawbrook Bank, the Workboat Association and a keynote speech by a senior marine manager from Orsted, the world leaders in offshore windfarm operations. To end the day, a panel discussion with delegates from several leading companies, including Scottish Power, Vattenfall, Orsted and Boskalis was held to discuss decarbonisation, chartering, port development and vessel optimisation.
Stephenson Harwood's and Colebrook Offshore's representatives emphasised throughout the day the importance of open discussions up and down the supply chain within the CTV sector and would like to thank all attendees for attending and providing us with their views. Given the feedback from the attendees, it has been agreed to host another CTV day in London.